There are so many challenges facing humanity, some of which are unemployment, lack of access to financial services, inability to think out of the box due to existing factors, the distance on the internet because there are too many applications which run separately.
Unemployment
About a third of the world population are counted to be poor. Most of them are found in the developing countries and they are living on income less than 1.25 dollar per day. Many of these people are not without the basic education to get a job. But they lack access to adequate information which can get them a job. Some who have access to this kind of information do not know how to utilize the information. Unemployment is the language of these people. The rate of unemployment is very high, applicants are much while there are few vacant positions to employ them. Situations of cases where there are only few hundred positions but applicants are running into hundreds of thousands occurs almost in every country of the world.
Lack of access to financial services
People lack opportunities to do what will make them succeed in life. They lack fund to execute their big dreams. They want to apply for loans to execute these dreams but their applications were rejected by financial service providers because they are ineligible owing to the fact that they lack collateral. You can imagine a poor man who wishes to get a loan to service his dreams being asked for a document of a building in Banana Island at the point of getting a loan – what an irony!
Thinking out of the box
Of the unemployed, there are many who can not think out of the box. Their attention is directed towards a direction for an opportunity (which in many cases has a very low probability of profitable opportunity compared to other options), and because of this, they struggle. For example someone who studies a course and wants job in the same field, in many vase are blinded to greater opportunities in other areas of their capabilities such as their hobbies, religion, culture, parent's occupation, upbringing, etc.
Distance on the internet
Sometimes you feel there is the distance on the internet looking at the number of web applications you have to visit to get some basic things done like socializing, searching jobs, e-commerce, writing exams on test platforms. It gets so frustrating switching from one web applications to the other.
The Solution – SANCOJ
All of these challenges are summed up and solved just by an innovation which seeks to synchronize all into a platform that offers all – SANCOJ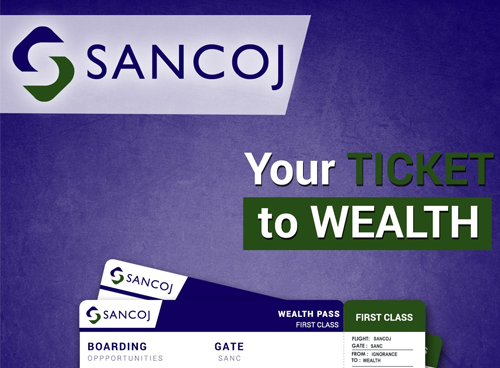 source
The word "SANCOJ" is an Esperanto word which means "OPPORTUNITIES" in English. It is that simple. Sancoj means opportunities. The Sancoj project intends to offer Opportunities to everyone for free (at zero transaction cost). We know that the word opportunity has very wide meanings and can be interpreted to be a job, project contract, event, learning, certification, socializing, talent management/enhancement, buying and selling, business acquisition, distributorship or franchising, etc. That is why we have used our hybrid algorithm to synchronize all of them into one simple platform while also allowing the user to make use of our Artificial intelligent Agent (Zingo) in making sensitive opportunity discovery and decisions.


source
Sancoj is a web application full of great opportunities which can set a man who uses them on a path to success for life. Sancoj creates an artificial intelligence agent (Zingo) that uses a wide range of users data (provided on the platform) to help the user search and suggest opportunities with great profitability. Take for example a man who is a civil engineer by profession who wants to change or switch to another job. Zingo uses his data on the platform while searching for opportunities which are more profitable than the previous job. Zingo may present him with an alternative in fashion designing (being the profession of the man's parent which he had learned) after finding out that companies from other countries need suppliers. Zingo also helps him to find out a list of funders that might assist to raise a capital since he didn't have the capital to start such a venture. Therefore, based on profitability, Zingo helps to predict the success rate for different opportunities.
Some of the data requested from Zingo are Nationality, qualification (education, training, etc.), location, hobbies, experiences, belief system, relationships, finance, business, interests, dreams and visions, fashion, environment, entertainment etc.
Sancoj provides a platform to train and network people to start their own business. It also provides a platform for companies to hire workers from anywhere, thus reducing cost effect on the companies and giving international job seekers to work from home.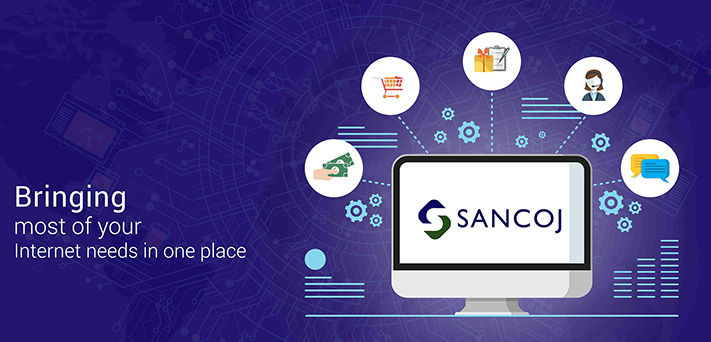 Sancoj also brings most of man's internet needs (socializing, job search, e-commerce, writing exams on test platforms) into one place.
Sancoj is an innovation that started WORKXTRA which is centralized with a lot of challenges, paying high fees for cross-border transfers, problems with banking industries, etc. But it is now venturing on the blockchain with the ZINGO agent and many other interesting features.
The sancoj token is built on the etherium with the symbol SANC which is the only approved crypto in the platform.
In my own opinion, I think Sancoj is the next opportunity for the unemployed to get something doing, not just something that does not sustain but something that suit them and is profitable. Being able to think out of the box is a limitation to many, as the four walls of their office have become a prison to their innovation and mind. Through the Artificial Intelligence (Zingo) on the platform, users will be able to get to use their untapped strength and creativity. Not just to tap into their strength and creativity, but to gain from it because Zingo will help bring the necessary resources to expand them. This is a great moment for you to join the platform, you will be glad you did.
Video
Token details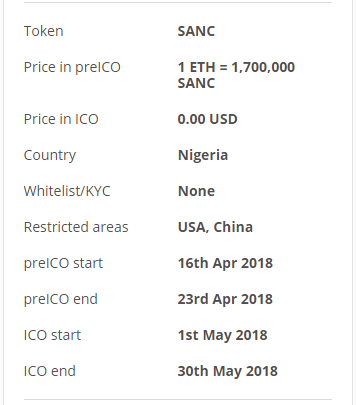 The ICO ended in the past few days and the alpha version is live here
For More information
Sancoj is a company that has its headquarters in Lagos, Nigeria.
I am ayobami99 on bitcointalk, you can reach me here on https://bitcointalk.org/index.php?action=profile;u=1848386;sa=summary