Statistics have shown that almost half of the world's population are employed, with many big companies, or organizations absorbing thousands of this population. Talk about government bodies that employ civilians, they are seen to be the largest employer of labor in many countries of the world. How do these bodies store information pertaining to workers like, their CVs, pay slips, etc? A countless number of printing papers are used to store this vital information, which in the worst case scenario, can be destroyed if not properly stored. Best case scenario, this information can be lost, with improper storing. Over the years many of these employers have adopted the storage of this information in computers or online centralized storage, these are good, but has its own disadvantages: if the centralized storage has a virus infection or fault, all data are lost without recovery. These centralized storages do not support effective data sharing without altering the data security. So they have to be printed out and handed over to each worker by hand for confirmation and signing.
Organisations absorbing thousands of workers cannot pay salary in cash to workers so they use intermediaries like banks to pay workers. Bank charges are very high per worker paid. Sometimes workers wait for a long period of time before payments reach them. Workers are paid in fiat currencies which are constantly depreciating in value and are subject to inflation. Workers accounts in banks are also subject to monthly deduction as bank charges for saving. Individuals do not have the total control over their funds.
Solution
The solution to the problems stated above is the blockchain technology because it provides a means of storing complex information or digital ledgers in a decentralized manner which opens up a way of validating information. It also allows peer-to-peer sharing of information without compromising the security of data shared. There is the 4th Pillar, a project, which leverages the blockchain technology to adequately deal with problems in data storage and sharing for organizations and individuals.
4th Pillar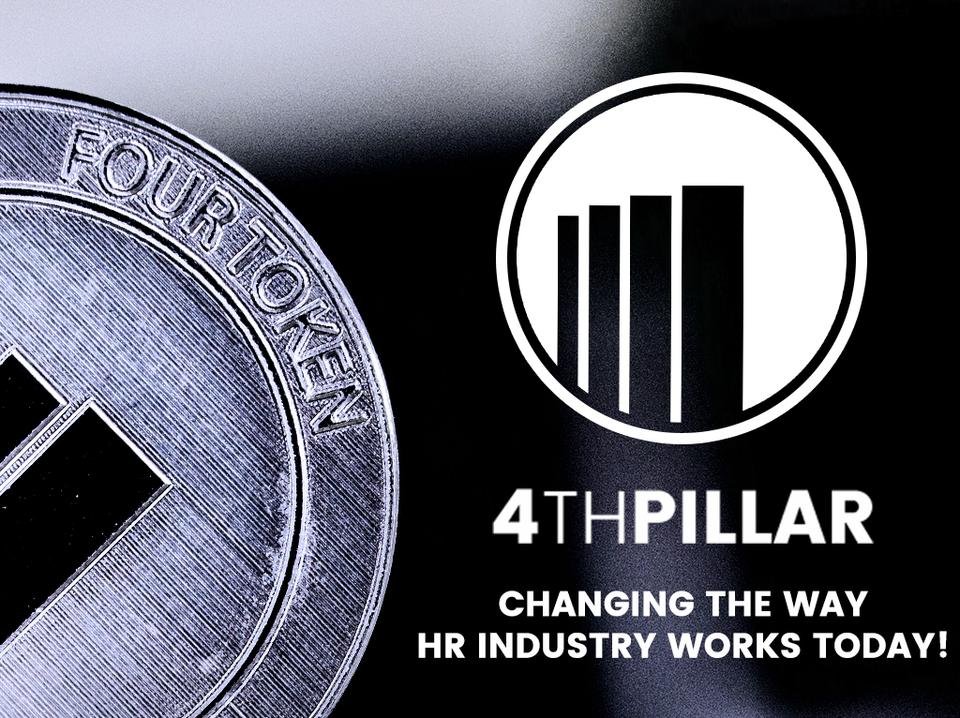 source
The 4th Pillar platform empowers individuals to build a verified professional identity and a decentralized personal crypto savings fund. Simultaneously, it enables organizations to recruit based on automated and verified employment data as well as digitally transfer multiple cross-border payments and work-related documentation. The FOUR token serves as a main value connecting and fueling the 4th Pillar ecosystem.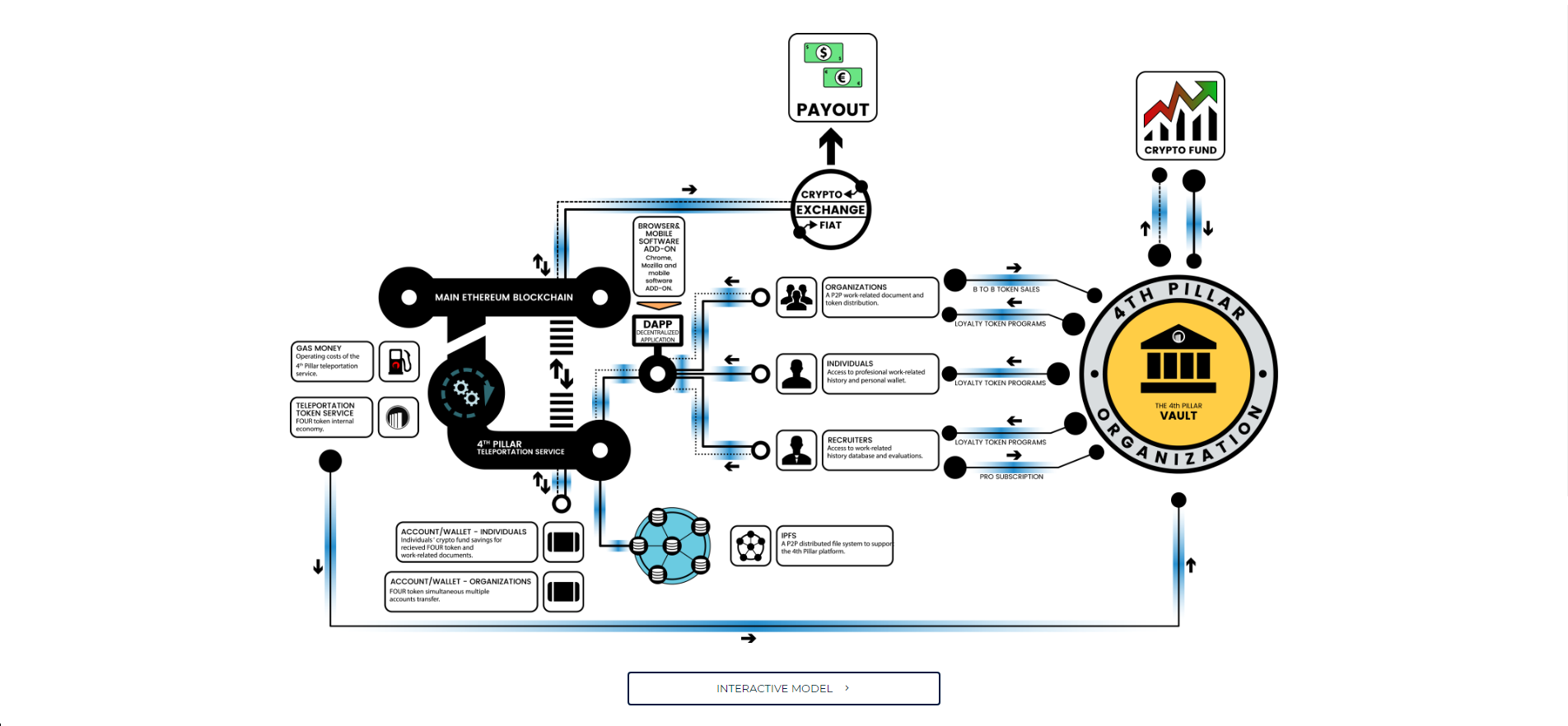 source
On the platform, employers are able to directly pay workers in the FOUR token for their work without intermediaries. This saves time and lowers the cost of transactions. They only pay a transfer fee in four token which is far less than the cost of the transaction when paying through banks.
4th pillar uses a decentralized storage system (IPFS), to save worker-related information like pay slip, medical report, performance reports, etc. Sometimes payslips, which contains the details of payments of salary, deductions of taxes, etc. need to be handed over to the workers for signing or verification and these are confidential data. The payslips are kept by the organization as evidence for calculating pension of workers. 4th pillar will leverage the blockchain technology to store all these information on a peer-to-peer distributed system seeking to connect all connected systems to the file system – interplanetary file system (IPFS). This makes sharing of information with the authorized party, very easy and faster without fear of compromise for a very long period of time. All the organization has to do is to share the public key of the file with the employees to access the files. The public key allows the file to be read but not edited.
On the 4th pillar platform, each individual has total control over his own wallet, no monthly deductions, they can save part of their earnings. Individual wallet contains their tokens, work-related information, and digital identity.
Individuals are also able to store their personal data like work history for a long period of time and available to them when switching jobs.
On the platform, there is the employee evaluation system for all recruiter in a discrete manner so that recruitment can be conducted without discrimination (gender, age, race, religion, sick leaves, etc.).
External users are able to browse through individual's information and discover them based on their location, years of experience, employment status, work expertise etc.
4th pillar secures the data and funds of organization, individual and recruiters, by performing KYC (Know Your Customer) and Anti Money Laundering (AML) to avoid problems.
The Four Token details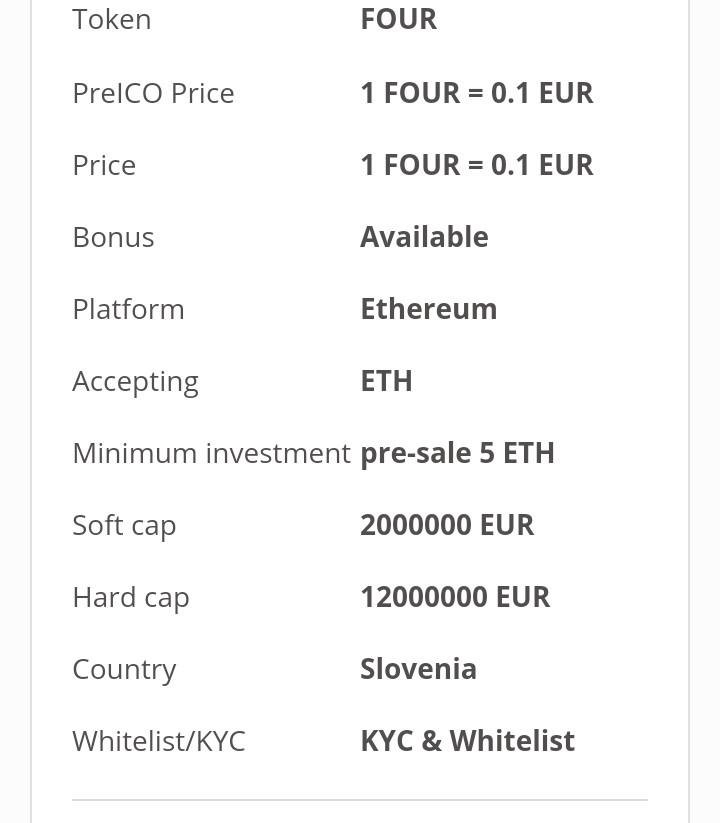 source
For More information and reading: